Atlantic Cordage Corp. NEW JERSEY, USA

We offer a solution with DEFIANCE Wire Rope, Fiber Ropes and Hardware...quality-consitent products that meet or exceed current specifications including but not limited to RRW-410-F, API-9A. Cordage Institute Specifications, OCIMF, SOLAS, IMO etc. relating to a broad spectrum of features aimed to ensure Quality, Reliability and Satisfaction to our customer. This is what differentiates Atlantic Cordage from its competition. DEFIANCE products are precision engineered and manufactured to assure withstanding of severe marine field applications. Close control over every phase of our operations is second to none. This excellence is not only achieved by having the product available when you need it, but by also providing a knowledgeable staff fully trained in the industry we excel in.
420 With Hook
Non-rotating / 8 x 19 Class / Defiance
Screw Pin G-209
unselect all/select all
You have 0 products selected
Snatch block
Send enquiry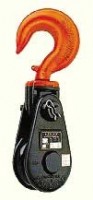 * Hooks and side plates are forged alloy steel and heat treated.
* Shackles and yokes are forged and heat treated steel.
* Side plates are designed to eliminate possibility of rope jamming.